Shop Safe Travels at Bloomingdale's: Here's the story of New York's Coolest Department Store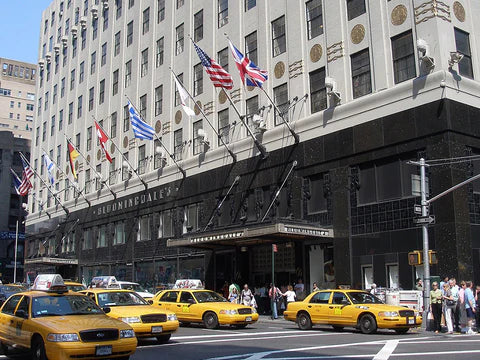 You surely are familiar with the iconic department store, Bloomingdale's! Do you know the incredible history of Bloomingdale's? 
Today Bloomingdales is a U.S. department store chain owned by Macy's, Inc with 38 stores and 16 Bloomingdale's outlets.
Bloomingdale's was the first company to use a famous "marketing tool":  the shopping bag. In fact, in 1961 it introduced the use of a paper bag to highlight its  brand name,  THE iconic and most recognized "Big brown bag."
But how and when was Bloomingdale's born?
In 1861, brothers Joseph and Lyman Bloomingdale, sons of a salesman, moved to New York and began selling skirts in their haberdashery store on the Lower East Side in Manhattan.
In 1872 the two brothers opened a store offering a wide range of clothes, some inspired by European fashion.
They later moved to the corner of 59th Street and Lexington Avenue, and in 1930 Bloomingdale's became part of Federated Department Stores, now Macy's, Inc.
In 1931 the building was completely redesigned by the architectural firm Starrett & van Vleck in the current Art Deco style.
The department store also overcame the Great Depression and World War II, and in 1949 opened it's doors in Fresh Meadows, Queens: more than 25,000 people were at the opening!
.
From that point on, many more store openings followed, including outside New York, in Washington DC and Massachusetts in the 1970s, in Pennsylvania, Texas, Florida, and Illinois in the 1980s, and in California in 1996.
Today you can find Bloomingdale's in Dubai too, however, the most famous address is still the Manhattan one, at the corner of 59th Street and Lexington Avenue, and it's there (as well as in other locations too)  that you can buy Safetravelskit today: the first-to-market luxury airline bedding set.
On the sixth floor of the department store, you will in fact find your new MUST have travel accessories!
Touch the exclusive, luxurious tech fabric of the seat cover and pillowcase and discover the softness and delicacy that make it suitable for even the most sensitive skin.
In fact, our travel sheet set is: antibacterial, antiallergenic, antimicrobial and creates a real barrier from germs and bed bugs.
Perfect for long-haul travel, our kit is compact and chic, allowing you to sleep and relax better so you arrive at your destination rested and without that ick feeling.
Also read our article, SLEEP WELL EVEN AT 35,000 FEET!
Dermatologists also recommend it for acne-prone skin and for children, especially those with allergies.
Kits don't have to be washed in between uses due to their non-binding material, covers are also washable up to 100x! 
Bloomingdale's is online too, so you shop your Safetravelskit on Bloomingdales.com
 Safe Travels!