The 4 Dreamiest Towns Along the Amalfi Coast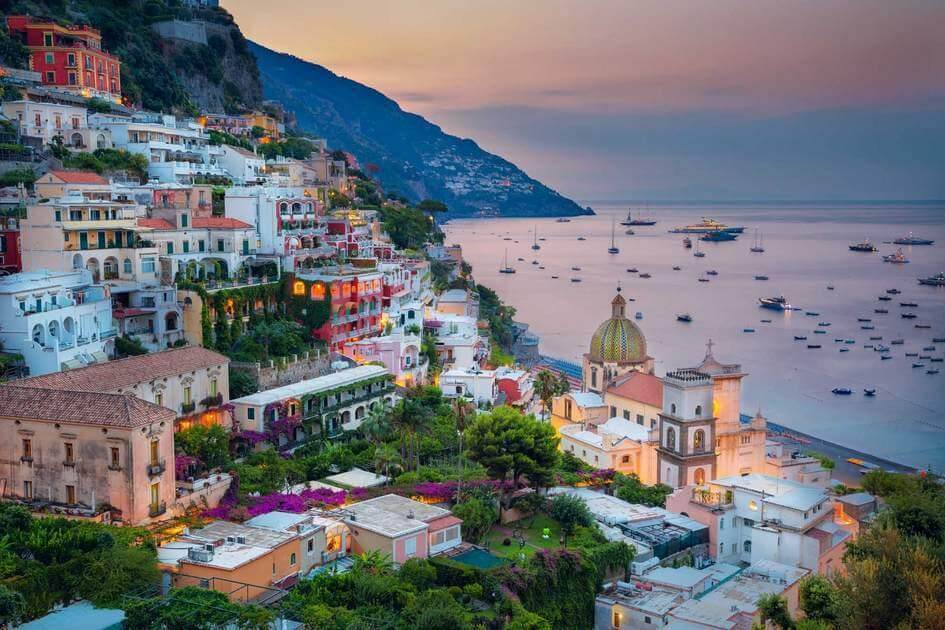 With miles and miles of zig-zagging cliffs dramatically dropping into the emerald blue waters below, the stretch of scenery from the Gulf of Naples to the Gulf of Salerno (also known as the Amalfi Coast), is a mythical destination welcoming millions of travelers each year. 
The best time to visit the Amalfi Coast is during the summer and early fall months. The sea temperatures are warm as explorers from all across the world make the trek to the seaside towns to cliff jump, enjoy traditional Italian food and fresh seafood, and take in some of the world's most spectacular views.
Any time of year, however, travelers discover that getting to the Amalfi Coast takes more research and planning than other destinations due to its location as well as the number of things to do and see in the region. From scenic trails like Path of Gods, to stunning beaches such as Fornillo, the Amalfi Coast has something for solo travelers, traveling couples, and families alike. 
Here at Safe Travels Kit, we've reviewed more than 15 years of traveling through Italy to compile our top recommendations on the best towns to visit, where to eat, stay, and relax in the dreamy Almalfi Coast region. Read below to help plan your next adventure:
1. Positano
The colourful and picturesque seaside town of Positano is the most famous of the towns along the Amalfi Coast, and for good reason. While there is public transportation (a bus system), and the option to rent scooters, using Positano as a base for a vacation to the Amalfi Coast means easy access to ferry boats that run between each of the towns on the coast daily, which are a very cheap option for transportation. Speaking of transportation, a cruise down the popular Amalfi Drive to take in the views is a must. 
For favorite activities, the Positano Spiaggia is one of the most popular beaches in the town known for it's colourful umbrellas and turquoise blue waters. Learn to make two of Italy's most famous cuisines (pizza and tiramisu) in the private home of a local, or try some of the region's most famous wines at Swirl the Glass.
For a day trip, book a tour to visit the impressive archeological site of Pompeii and Mt. Vesuvius itself. Explore the ruins, visit the baths, and make sure to stop at some out-of-town villas close by.
Lodging is Positano is a no-brainer. With plenty of private bed and breakfasts, boutique hotels, and resorts, you would be hard pressed to find a location that didn't have a beautiful view. However, the best hotel to lay your head after a busy day of exploring, is no doubt the Albergo Miramare Positano. Only 350 feet from the centre of town, and 200 feet from the beach, the possibilities for relaxation and exploration are endless.
2. Amalfi
The namesake of the Amalfi Coastline, this city was once home to a celebrated paper-making industry. While today it thrives on a bustling tourism industry, it is a quick day trip from Positano (your home base for your time at the Amalfi Coast, remember?)
First, hop on the ferry at Positano and take the 30-minute trip over to Amalfi. Make sure you get there on the first ferry out as Amalfi can get extremely crowded, especially during the peak summer months. 
Make your way to the main square, Piazza del Duomo, first. Admire the striped cathedral and its magnificent bronze doors before making your way into the back streets to wander for a while. Stop for a famous lemon-cream cake (delizie al limone) at Pasticceria Panza, and learn more about the Amalfi Coast's tradition of handcrafted papers at the famous stationery shop, La Scuderia del Duca.
For the best view at the Amalfi Coast's hippest meeting place, stop into Franco's Bar, followed by lunch at a beach nearby via boat service provided by Da Adolfo. Boats leave daily at both 10AM and PM, with return service from 4PM onward.
If pretty pastels and white sand beaches are more your preference, following the walking path to the fishing town of Atrani nearby, also known as the smallest community in Italy. It spans only .08 miles, making it easily walkable. Before getting back on your ferry to Positano, make sure to grab a lunch at A' Pranza. The octopus and calamari are solid choices.
3. Capri

A short 45-minute ferry will take you out to the stylish island of Capri. The ferry here is, in our opinion, one of the most stunning boat rides on the Amalfi Coast. Immediately upon setting foot on the island, the colourful vintage cars will surely catch your eye. Follow the signs up to Capri town and promptly buy a lemon granita from the stand in the square for a cool, refreshing snack. For a more filling dining experience, stroll into Da Paolino -- a charming restaurant known for its stunning decor and traditional Neapolitan menu.
You'll want to take in the best views possible on Capri (and there are no shortages of them!), so catch an open-air taxi up to Anacapri, and take the Monte Solaro chairlift (pictured below) to the top of the mountain. Here, you'll discover fantastic views across the island and down the Sorrento peninsula. 
In the afternoon, take a gozzo boat tour around the island, or lounge Slim Aarons-style at La Fontelina Beach Club, which is known as one of the most beautiful beach clubs in all of Italy. It's been in operation for more than 50 years and serves some of the freshest seafood on the island.
4. Sorrento
While most visitors simply pass through Sorrento on their way to Positano or Capri, it's a beautiful and charming town that absolutely can't be missed. You can access Sorrento via the 40-minute ferry from Positano, via rail, or by car. 


Known to be slightly more metropolitan than other towns along the coast, Sorrento has a number of unique restaurants and activities to partake in that may not be found in other villages. The most popular spot in the town is the town square, known as Piazza Tasso. Here, visitors can find a number of cafes, including  D'Anton, which is an interior design and decor shop turned cocktail lounge. 
After spending some time sipping, snacking, and people watching, meander through the maze of narrow back streets in Old Sorrento, where you'll pass by beautiful private homes, artisans' shops, luxury hotels, and street food vendors. Don't pass up fresh limoncello gelato and fries Queen's Chips (trust us on this one!)
For lodging, there's no shortage of quality options. You can book a stay at the luxe Grand Hotel Excelsior Vittoria, the paradise of Conca Del Songo, or Lo Scoglio for the freshest local cuisine. Grab a glass of bubbly at their vine-covered champagne bar La Pergola, followed by adinner at Ristorante Donna Sofia (named for Sofia Loren). Stick around and enjoy one of Sorrento's breathtaking sunsets, and take a 25 minute taxi-ride back to Positano (the ferry's don't operate at night). 
When to Visit Amalfi Coast
While Italy is beautiful year round, the best time to visit the Amalfi Coast for the best weather, most affordable lodging prices, cheaper flights, and less tourist crowds, is most certainly spring and fall (May and September). Temperatures are the most comfortable during this time with highs in the mid-70's.
About Safe Travels Kit
Regardless of where your travel takes you or how you get to your destination, the Safe Travels Kit hopes to accompany you — on the road, on the rails, or in the sky.
Our first-to-market antimicrobial and hypoallergenic travel and airline bedding kits include an ultra-soft seat cover that fits both economy and business seats, a standard size pillow cover (15x20in that can also be used as a seat back tray cover), 10 sanitizing wipes, and one surgical face mask packed into a parachute washable packing cube, all to ensure a cleaner, more comfortable journey. Pillow cases can also be personalized by adding ultra-luxe monogrammed stitching of up to three letters for only a $10 add on. While kits don't have to be washed in between uses due to their non-binding material, covers are also washable up to 40x! 
Visit www.safetravelskit.com to learn more about our brand journey, product information, and our dedication to sustainable travel initiatives through our partnership with Team Trees.
 Don't forget to use code 'WELCOME15' for 15% off your next order at www.safetravelskit.com for upcoming summer travel!