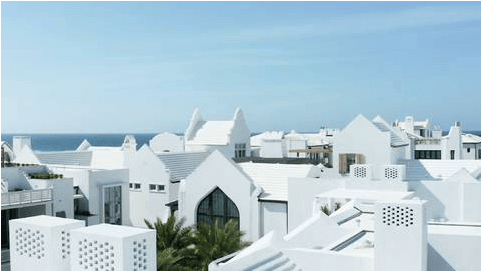 Planning a domestic trip but still desperately craving those chic European vibes? Look no further than the quaint Southeast town of Rosemary Beach, Florida. Below, we share where to eat, stay, and play on the Emerald Coast.



About Rosemary Beach
Located on the Florida panhandle, Rosemary Beach is an up and coming community along the popular stretch known as 30A. Close in proximity to Panama City Beach just an hour away, it offers a charming and European-like experience filled with walkable cobblestone streets, high-end shopping, award-winning restaurants, and Mediterranean style oceanside homes. Stark white buildings and lush trees line the sidewalks downtown and all the way to the posh private community of Aly's Beach nearby.  
With a population of only 4,328, walking around Rosemary Beach immediately makes one feel as if they are strolling through a Southern European seaside village. The relaxing vibe coupled with the breathtaking scenery and ever-changing food scene makes Rosemary Beach a must-see destination in the Southeast United States.


Where to Stay
Located just steps from Aly's and Seacrest Beach, sits a gorgeous coastal colonial home owned by the rental company, Yourcation Awaits.

Accommodating up to 16 guests, this relaxing beach home features 5 bedrooms, 9 beds, and 4 and-a-half baths featuring sustainable bath products, making it perfect for family vacations or bachelorette parties.
Just 30 minutes from the Panama City Beach Airport, the rental property has a full kitchen, free parking, a full rooftop deck, and access to a private pool and a private beach across the street. The sunny space is also dog and kid-friendly, and boasts an open concept first-floor with plenty of room to cook, laugh, play, drink wine, or unwind. 
Throughout the house, guests can find six large flat screen TV's that tout Netflix, Hulu, Disney +, and ESPN. In the game room lounge upstairs is a giant bean bag, a wet bar, and mini-kitchen with microwave, mini-fridge, and a large bank of board games.
A free coffee bar is also available in the downstairs kitchen and third floor kitchenette, making watching the beautiful sunrises and sunsets from the houses numerous porches and rooftop the ultimate dream. 
Where to Eat
1. Chiringo
Hop in the rental car and head towards Grayson Beach to find the beachside gem called Chiringo that serves Spanish-style dishes, fresh seafood, and handmade cocktails. 
Featuring only the freshest saltwater staples and product, guests can dine inside or on the open air rooftop to enjoy beautiful Gulf views. 
While it is best to go at sunset, reservations can be made for any time Chiringo's is open. Recommended menu items include the 'Snapper Fish Spread,' the 'Fried Gulf Shrimp Basket,' and the luxe 'Lobster Roll' served on a toasted brioche bun with fresh lemon.
2. La Crema Tapas & Chocolate
Located across the street from The Pearl Hotel in downtown Rosemary Beach, La Crema Tapas & Chocolate provides a unique experience for diners wishing to try authentic Spanish cuisines. 
This bright, cozy cafe offers small plates, chocolate confections, homemade sangria, and other craft cocktails. 
There is an outdoor dining area street side that is perfect for people watching (especially with a cold sangria in hand), but the restaurant doesn't take reservations, so make sure you get there early to snag a prime spot.
Recommended menu items to order include the 'Seafood Paella', the 'Cheese Fondue with Crudites', and a glass of red sangria.
3. The Pearl
One of the most popular — and stunning — hotels in the Rosemary Beach area, The Pearl Hotel, is a vibrant, luxury hotel located in downtown Rosemary Beach. Resembling architecture one would find in the South of France, The Pearl features an art gallery, an award-winning spa, and an AAA Four-Diamond restaurant, Havana beach Bar & Grill. 


Guests can dine at the restaurant in a number of ways (and all of them are good choices!) The main dining room has live piano music nightly, the veranda has full views of the Gulf and Main Street, the rooftop is the perfect place for sunset, and the lounge is a great place to meet friends for a cocktail.
Food served here is farm-to-table and features a fusion of cuisine from the Texas, Louisiana, and Cuban, and Mexican cultures. 
4. Modica Market
A short drive down the road from the Yourcation Awaits property, sits a hidden gem tucked away in Seaside, Florida: the Modica Market grocery store.

An eclectic mix of global and local cuisines, plus libations and cooking essentials, Modica Market is a can't miss spot if you find yourself in 30A. This isn't your typical grocery store, however.

Located in the middle of the store is a bar that serves fresh cut meats, homemade side dishes, and our personal favorite: jumbo mimosas to-go! Filled with fresh fruit, champagne, and Florida orange juice, a small is $8 and a large is $12.

Pro tip: A few short steps from Modica Market, one can also find The Great Southern Cafe. Here, they serve the most unique and prettiest cocktails to go! We recommend the "Cocolada" with fat free vanilla ice-cream, dark rum, pineapple rum, and coconut milk with a side of oysters on the half shell.
Where to Play
1. Seacrest Beach
An upscale, private beach located down the road from Aly's, Seacrest Beach is a spot for endless relaxation. 
Boasting sugar white sand and turquoise waters, a morning spent on Seacrest Beach is a morning well spent.
Even better, the beach is home to a local grocery store, Seacrest Sundries, and a popular bike trail called Timpoochee Trail (the perfect place to ride your bike from Peddlers 30A). There is a private pool located at High Pointe Resort, with two more pools located at The Villas at Seacrest which are the two largest pools in the area.
Since the beach is private, access can be rather difficult. However, if you stay at the Yourcation Awaits property, entrance to the beach and multiple pools is included in the price of the stay.


 2. Peddlers 30A Bike Rentals
Known as the largest bike rental company in Rosemary Beach, Peddlers 30A is more than just a place to rent bikes.
The bike Pavillion, which is located in Seacrest, also features a fun bar called Peddlers Pub, where you can grab a cold drink on a hot Florida day. The location recently opened up a full-service sit-down bar and restaurant called Kickstand that plays live music nightly during the summer. There are also fun local shops selling unique art and beauty products in the Pavilion a short walk away.
Bike rentals run between $30 to $40 depending on the type of bike.


3. Camp Helen State Park
Less than five minutes drive from the Yourcation Awaits property, Camp Helen State Park is a oceanside playground perfect for spending a day outdoors.


Using the honor system to pay an entrance fee of your choice (recommended $4 minimum), Camp Helen is a 183-acre park where people can walk, bike, beach comb, bird watch, or hike! 
It's a mile walk through sand from the parking lot to the beach, but the views (and the shell harvesting!) is well worth the work out.  
This spot can get crowded especially in the summer, so it is best to arrive to the park when it opens at 8am. The entrance fee is good for the entire day, and you can stay until the park closes. It's listed on the National Register of Historic Places, so it is an absolute must-see when visiting the 30A area.


When to Visit 30A
While 30A is beautiful year-round, the best month to plan a visit is in the month of October. The tourist crowds are gone, and the weather is still amazing with the water of the Gulf still being warm enough for swimming.
This month, adult visitors can also enjoy one of the state's largest and chicest costume parties at the posh Aly's Beach. Attendees go all out in beautiful attire and dance until the morning hours. 
Fly Away with STK
While the last year and a half have been uncertain and less than ideal for everyone, recent reports have shown a glimmer of hope on the horizon for the future of the travel and hospitality industry. In fact, a recent consumer survey from VRBO, the American vacation rental online marketplace, 82 percent of families have a trip planned for 2021, while 65 percent of travelers overall said they had more plans to travel in 2021 than they did in previous years.
Regardless of where your travel takes you or how you get to your destination, the
Safe Travels Kit
hopes to accompany you — on the road, on the rails, or in the sky.
Our
first-to-market
antimicrobial and hypoallergenic travel and airline bedding kits include an ultra-soft seat cover that fits both economy and business seats, a standard size pillow cover (15x20in that can also be used as a seat back tray cover), 10 sanitizing wipes, and one surgical face mask packed into a parachute washable packing cube, all to ensure a cleaner, more comfortable journey. Kits can also be personalized by adding monogram with luxe stitching of up to three letters for only a $10 add on on your pillow case. Sets are also washable up to 40x! 
Visit www.safetravelskit.com to learn more about our brand journey, product information, and our dedication to sustainable travel initiatives through our partnership with Team Trees.
Safe Travels!
Continue reading