WHAT TO PACK FOR A WEEKEND GETAWAY!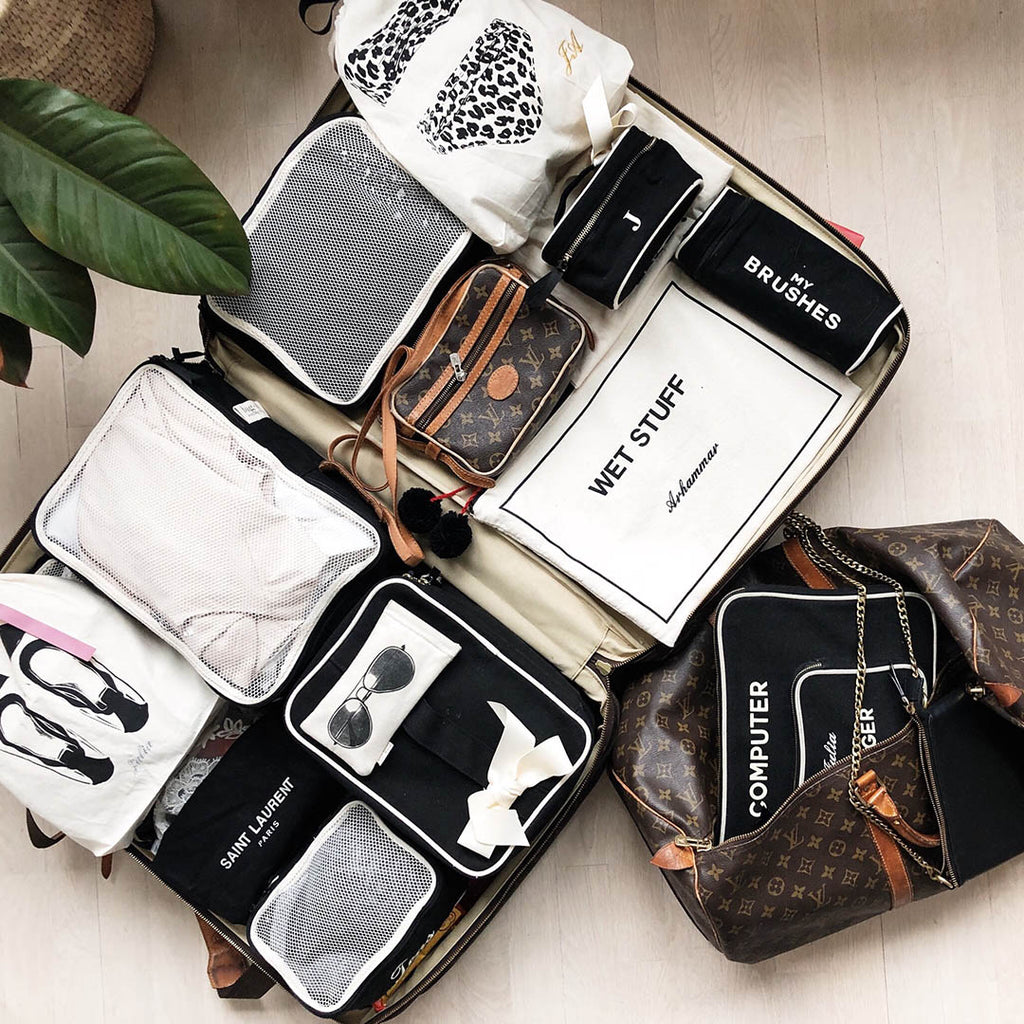 Ready for a Fall getaway?
Where will the next journey take you? We're really curious to know but first...let's pack your weekend bag!
We have here some valuable tips for packing the perfect suitcase for a weekend getaway: smart, practical and light, without giving up anything!
Let's get started right away!
Psss...if you are looking for inspiration for a fall weekend getaway, you can check this post on Instagram to discover the best destinations in the U.S. to see foliage.
 First, use the packing cubes, they allow you to organise your luggage.
For weekend trips where you can use a cube with items for each day, so each morning you can just pull out that day's cube .
Rolling clothes is a great practice to save space, in addition to avoiding wrinkles in most clothes.
Remember to use a separate Pouch for lingerie
Toiletries are often one of the heaviest items in our bags.
Only bring the absolutely essential toiletries, better in travel size.
When packing your shoes, make sure they have their own bag.
Not only does bagging up your shoes keep them scuff-free, but it also prevents them from transferring dirt to your clothes and toiletries.
Don't forget to organize all your electronic device accessories in a special bag.
This way you won't misplace any of these essential accessories and you won't waste time looking for them in your bag
What about Safertravelskit?
Don't worry... our set is so comfortable, soft and lightweight with its unique packaging that it fits comfortably into even the smallest spaces! In fact, it measures 12 "x8 "x3" and weighs only 0.75 lbs.
Don't give up feeling protected and cool throughout your trip with the seat cover and pillowcase in a luxurious fabric that is:
Antimicrobial
Hypoallergenic
Reusable
non-germ binding 
Super soft
Visit www.safetravelskit.com to learn more about our brand journey and product information and shop your set!
Don't forget to use code 'WELCOME15' for 15% off your next order !

 BEST WEEKEND BAG Choose by Our Team
Do you need to purchase a weekend bag? No problem, we have selected weekend bags from the best brands for you!

Here is our list :
1) RIMOWA
NEVER STILL - Travel Backpack


WE LOVE IT FOR: 


Dedicated pocket to store a laptop, phones and documents located in the back for easy access.

Generous space to pack your clothes for a two-day trip.

A zipped pouch with iconic grooves offers easy access in the front


 NEVER STILL - Weekender
WE LOVE IT FOR:
Flexible Shoulder Strap

Unique webbing strap emblazoned with RIMOWA Cologne coordinates that allows you to conveniently fix the bag onto a suitcase.

Made in Italy

A removable leather address tag.
 2) TUMI
Valetta Tote L
WE LOVE IT BECAUSE:
It's 

Stain and Water Resistant

Made with Recycled Materials

 You can use the modular accessories on their own or attach them to select bags and cases to make the most of its packing capacity. They can also be seamlessly transferred from one bag to the next, adapting to your day, thanks to their easy-to-use design.
3) AWAY 
The Medium Everywhere Bag
WE LOVE IT FOR:
Functional interior organization system featuring zipper and slip pockets to keep your travel essentials organized
Exterior padded laptop pocket fits computers up to 15" with magnetic locking zipper for security
Extended zipper clamshell opening for easy access and visibility to main compartment
Detachable padded shoulder strap with concealable D rings and top handles sized for comfortable shoulder carry