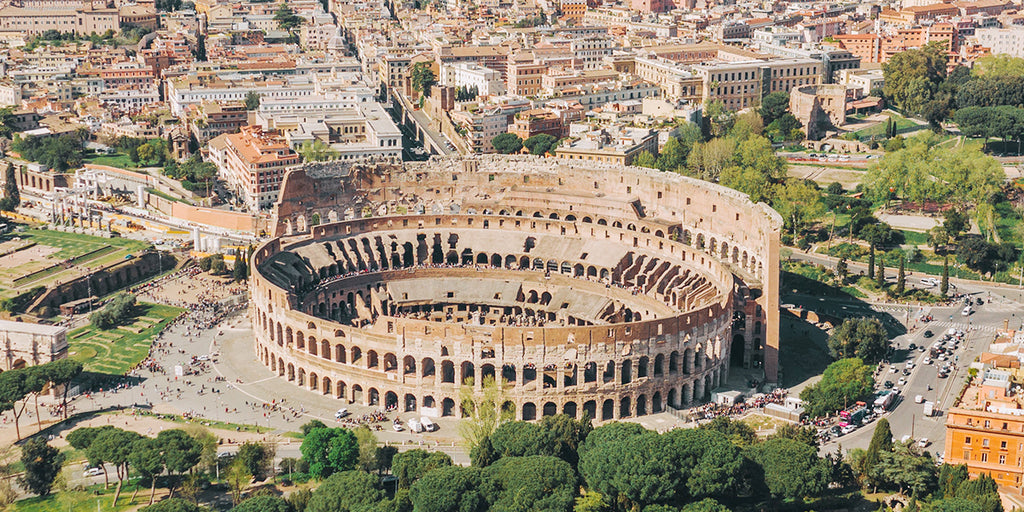 Have you ever been to Rome or dreaming of traveling there soon?
Planning a trip to the eternal city may sound stressful. What to see? What to eat? Where to stay? How can we possibly do it all in just 1 day?! Well, we have the ultimate pocket guide for an itinerary to see Rome in 24 hours! YES, It's possible!
For more dreamy Roman spots, also see our reel on Instagram and follow us too! 
Ready to go? Let's start and ANDIAMO! 

Wake up early for breakfast and go to a local "bar" of Caffe' near your hotel for a traditional Italian breakfast with espresso or a cappuccino and a croissant (they call them "cornetti.") 


Visit the Colosseum - the world's symbol of Rome. With only 24 hours, it is best to admire and take photos from the outside. You will nonetheless be wowed by its beauty and grandeur! 
Don't miss a stop in Piazza Venezia. About a 20 minute walk away, you will find one of the biggest "hubs" in Rome. This enormous white building is the Monument of Vittorio Emanuele II - also a good photo spot!

If you are feeling hungry, try some Roman takeaway food on the way, as a light lunch or snack. Supplì is a delicious Roman specialty. It is a fried rice ball made with red sauce stuffed with cheese.
According to the STK team the best supplì in Rome is at Supplì Roma.

Walk from Piazza Venezia to the Trevi Fountain!
Throw your coin in the fountain for good luck, make a wish and take some photos. Take in this masterpiece! 


Move on to the Pantheon. In about 10 minutes you will reach it by foot from the Trevi fountain. This is a historic Roman Temple - one of the oldest standing buildings in Rome. Entry is free!


In a short walk from the Pantheon, you will find Piazza Navona.
If you are ready for another break for coffee or aperitivo, this is a great spot! Alternatively, if you want to see another famous square, you can go to Campo De' Fiori and here, during the day you'll find a street market with locals, many amazing Italian delicacies including cheeses, limoncello, balsamic vinegars, and other souvenirs.


When you are ready to move on, walk across the Ponte Sisto bridge into Trastevere. You will see a beautiful view of Vatican City and St. Peter's Basilica from the bridge.
At this point, you may be ready for something sweet and the famous Tiramisu by Pompi is a MUST!! 

Explore the small alleyways and cobblestone streets of the Trastevere neighborhood.

For dinner be sure to try these infamous Pastas: Carbonara, Amatriciana, or Cacio e Pepe - Rome's traditional pasta dishes!
Here's, a list of our favorite restaurants in Trastevere:
Where to stay in Rome
For this 24-hour tour of Rome, location of the hotel is really very important for convenience.
Here are the hotels we recommend:

Hotel Eden
From the Dorchester Collection, this luxury hotel located on Via Veneto has 98 elegant rooms with Murano chandeliers and marble bathrooms.
Just a 10-minute walk from the Spanish Steps, the J.k. Place was conceived by the brilliant mind of Italian architect and interior decorator Michele Bönan.
Palazzo Dama is a large villa with about 30 rooms and suites, minimal and modern.
The swimming pool is the main element that makes this hotel special (in Rome the hotels with swimming pool are a rarity)
Portrait Roma – Lungarno Collection
This hotel, in Via Condotti, belongs to the Ferragamo Family and it is really an exclusive place: there is no sign and it only has 14 rooms.
It also has a beautiful rooftop terrace with fireplace from which to observe all of Rome.

Extra Tip for you
If you only have 24 hours, an alternative way to visit Rome is to board the City Sightseeing Bus! Buy tickets on their website and let yourself be fascinated by the Eternal City and its timeless beauty.
AND...don't forget your Safe Travels Kit!
Our first-to-market antimicrobial and hypoallergenic travel airline bedding set include an ultra-soft airplane seat cover that fits both economy and business seats, a travel pillow case (15x20in that can also be used as a seat back tray cover), 10 sanitizing wipes, and one surgical face mask all packed into a parachute washable packing cube, all to ensure a cleaner, more comfortable journey.
Safe Travels seat covers and pillowcases are washable. Use them repeatedly up to 40x!
Antimicrobial travel pillow cases can also be personalized by adding ultra-luxe monogrammed stitching of up to three letters for only a $10 add on. 
Visit www.safetravelskit.com to learn more about our brand journey, product information, and our dedication to sustainable travel initiatives through our partnership with Team Trees.
 Don't forget to use code 'WELCOME15' for 15% off your next order at www.safetravelskit.com.

Buon Viaggio!
Continue reading